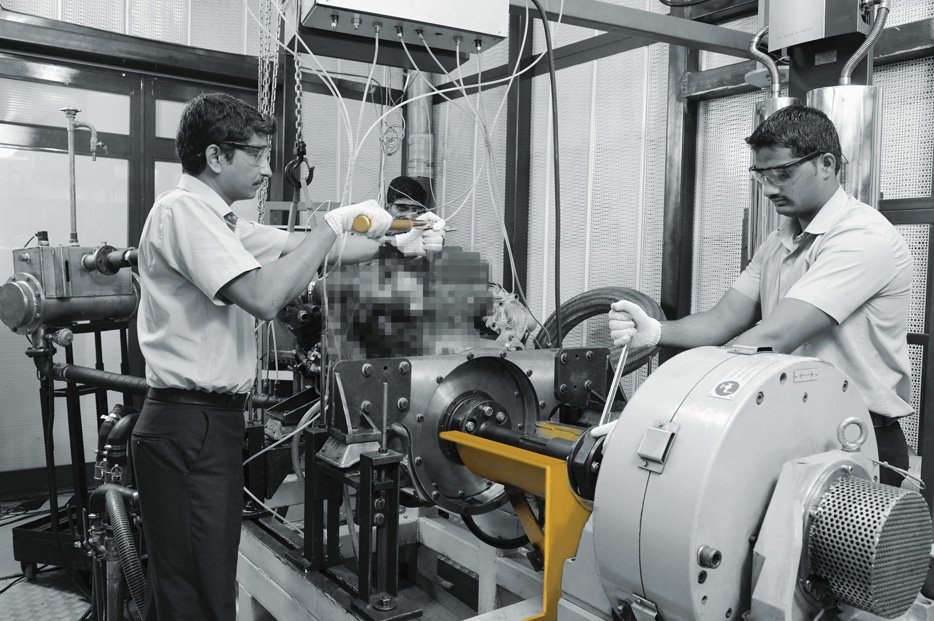 Testing    |   Validation    |   Analysis
We have an inclusive service cart in Testing, Validation & Analytical services that addresses durability and performance of diesel & gasoline engines and optimisation of components & powertrain elements. We are providing competent services to a wide range of industry applications - right from two wheelers, passenger cars, commercial & off-road vehicles, heavy-duty large engines to fuel & lubricant sectors. More to being an ISO-9001-2008 company, our strong crave for quality processes enable us to provide consistent test results that always has desired accuracy, repeatability and traceability.
In our Engine Plus Services we offer you special testing and validation services which are closely associated with Engine performance. These vital services are beyond mechanical validation.

Our cart includes a wide array of tests right from optimisation of Cooling Circuit to Thermal Mapping to Fatigue Test etc. It also includes Metrological Inspection of Power Train Parts & Proto Built as well as Teardown Analysis and Report Generation...
Strain Gauging, Measurement and Post Analysis
Radiator Efficiency and Optimisation Test
Residual Stress Measurement
Thermal Mapping of Exhaust Manifold
Thermal Shock Testing
Fatigue Test
Things are neverremote to you...
Monitor through IP Cameras
We have VOIP cameras installed in test cells though which you can get remote visual access as and when required.
Get Real-time Data through SFTP
Facility to capture real time test data and transfer it through encrypted Secure File Transfer Protocol. Even we can integrate it with your server involving your IT department.
Hawk-Eye

– Solution for Critical Failures

Our Hawk Eyes will catch the devil lied in detail…

No matter how critical failure you are facing in product development, we are always ready, with sleeves pulled up, to work out a solution.

To find and resolve cause of failure we define a strategic approach that is based on our Knowledge, Experience & Test Libraries which is further sharpened by Lateral Thinking.

The Hawk-Eye solution can be comprised of both Consultancy and Testing & Validation Services.

Technical Manpower Training

There is a constant need of technically trained hands in automotive Industry, which can be directly deployed on the job. The heavy turn around of experienced staff costs high in terms of time and efforts while further delaying streamlined activities.

To overcome this we offer special short and long term courses for your employees. They get practical hands on training and deep understanding of the subject.

If you have any special need, let us know, for we can specially design a long duration continuos program for you.

Consultancy for Test Bed Development

We can provide consultancy & extended solutions for building of complete test cells.

With experience of 50 test beds in various OEMs, we have derived certain approach and methodology for designing most optimised test beds. Also our in-house innovation facilities supports it.

Our field experience in testing keeps us clear about deliverables of each equipment and facility we intend to install and thus makes sure that everything comes Practical…